During our exhibitions we were quite often asked if our bears were for sale and for what prices. We have had to decline these purchase approaches as the idea behind the journey of "Dance of the Bears" has not been commercial. We travelled through out the Algarve, hopefully giving some thoughts of initiative and bringing some more colour into all our lives. Now it's time to move north.
BUT:
not all bears will leave the Algarve as travel arrangements are very costly and sponsors and Câmaras are pretty short for cash nowadays. That is why we shall always keep at least between 20 and 40 bears at their Algarve home in Quinta dos Vales.
Despite the fact that we are not ready to sell our bears, we acknowledge that fine art should be shared. A good art piece forgotten in a corner is no good to anybody!
Art has also its maintenance expenses. That is why we decided to share our sculpture-paintings not only during (free) public exhibitions but also on an individual level.
Our offer:
You may rent one or more bears for a limited period of up to one year. You may want to exchange them every 3 to 6 months (this is up to you). You may keep them in your garden, house or office. As long as you ensure that your visitors respect that these are not toys but real paintings on a sculpture you may have fun everyday with the bears.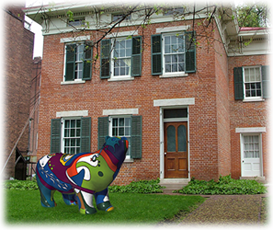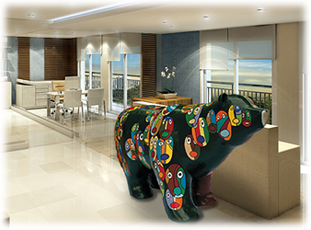 Our bears are curious to travel before they settle home! Host your private bear exhibition for a limited time and let them dance through your life.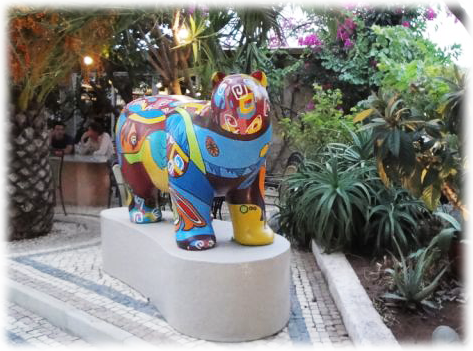 (Bear visiting Restaurant O Barradas, Silves)
Simply chose one ore more bears and contact us. If you wish we can take care for all the logistical questions as well.
See enclosed "Rental Chart" for pricing details. If you have questions please feel free to call Karl Heinz Stock personally under +351 96 90 30 735 between 10H00 and 18H00.
Enjoy.